Refraining from flying is the trend. Our author has embarked on an anachronistic form of transportation: the classic ferry. He would never have dreamed of the adventure he experienced as a solo traveler.
Recently I wanted to go to southern Sweden. What's the best way to get there from Hamburg ? Flight portals recommend a flight to Malmö with two changes in Copenhagen and Stockholm. This is not only connected with crazy detours geographically, but also ecologically unacceptable. After all, it should go to Greta Thunberg's home country.
Even by train, the journey is not a stone's throw away. Trains over the Öresund Bridge between Copenhagen  and Malmö only take 40 minutes, but a comfortable journey to the Danish capital with the continuous Eurocity is currently not possible. Track construction work on the Vogelfluglinie leads to replacement bus service. As an alternative, the train wants to take me from Hamburg to Flensburg first thing in the morning with the regional express, then it continues via Jutland with three changes to Sweden. However, I would only be there in the afternoon.
The best would be to fly from Hamburg to Copenhagen in 50 minutes. From Kastrup Airport, you can continue non-stop to Malmö by S-Bahn in just 20 minutes. But in times of flight shame , I would like to forego the short-haul flight .
I used to travel many times by ship from Kiel and Rostock to Scandinavian countries. Why not take the night ferry across? And doesn't Deutsche Bahn stop at a train station called Travemünde Skandinavienkai? Great, I choose the trip from Travemünde to Trelleborg. According to the timetable, it starts at 10 p.m. and arrives the next morning at 8 a.m. Then I have a whole day in southern Sweden at my disposal.
"Where are we going to Helsinki?"
When I get off the regional train at the Skandinavienkai stop in the evening, I'm to myself. Signs direct me through an underpass to a bus stop. A fence with a closed gate blocks the way to the harbor. By looking at the map I knew that there was still a long way to go to the ferry terminal with a bus.
The area is anything but inviting. As darkness sets in, a young cyclist, heavily packed with saddlebags, is looking for the way to the terminal. "Where are you going to Helsinki here ?" Asks me, clearly desperate. She feels lost in this maritime no-man's-land. We'll find a way around the port area for you using your smartphone.
According to the timetable, the bus from Travemünde-Strand in the direction of Lübeck city center should arrive soon. It'll come at some point. I get on the overcrowded public bus for just one stop. The driver opens the port gate by remote control, drives past endless rows of parked containers, new cars and agricultural machines. In a few minutes I can get off at the ferry terminal and am amazed that my wheeled suitcase and I are the only ones far and wide. Doesn't anyone take the ferry these days? Only those who travel by car or mobile home?
Two friendly ladies greet me at the shipping company's counter and hand me my boarding pass. "The driver of the shuttle to the ship is coming soon", says one. A large bus pulls up in front of the rear entrance of the terminal in which I take a seat alone. Probably only I'm late, I think, the others are already on board.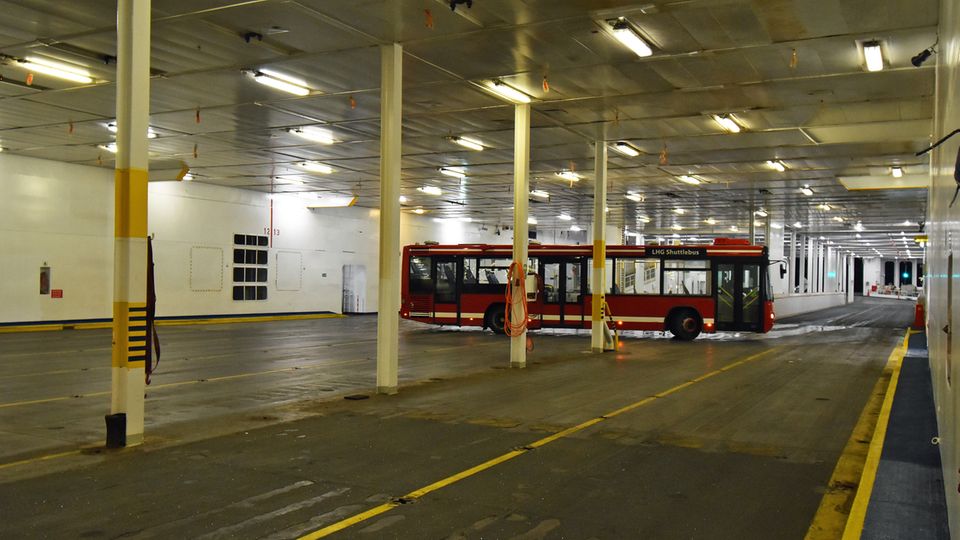 In the glaring light of the headlights, semitrailers race across the premises. The bus curves around caravan teams that want to Finland. The driver accelerates and drives over a ramp directly into the belly of the ship, which is so wide that he can easily make a 180-degree curve in it. "Take the left door, the right elevator is broken," he advises me as I get out. The ship's engines roar, there is a smell of diesel and truck exhaust fumes.
Hipster and Instagram free zone
A few decks higher, the number of passengers remains manageable. The majority are men in shorts with Adilettes on their feet. You go to the buffet on the right for "Truck Driver". To the left are the other, mostly older couples, who particularly appreciate the self-service taps for beer and wine: some fill up several glasses at the same time and set them up in front of them. Is it still so dry in Sweden?
What I like about this almost 20-year-old ferry: The product with food and cabin is honest and does without cruise frills. There is no romantic port excursion. Instead of 10 p.m., we don't cast off until 12.30 a.m. The sea remains calm, the ship pleasantly quiet. We moor in Trelleborg exactly at 8 a.m. At the reception I ask which deck I can disembark from. There is no gangway here either. "Please wait here until you are picked up," is the answer. First all vehicles have to disembark, then the shuttle can drive on board. I'm waiting. Alone. "You are the only passenger, on foot and without a car." I'll be the last to disembark. The routes of the big bus are even longer here than in Travemünde.
How to scare off passengers
A few days later, on my return trip, I find out firsthand why I am a lone perpetrator. This type of locomotion seems to me to have fallen out of time. I only walk five minutes from Trelleborg train station in Malmö to the port terminal. Departure to Travemünde also at 10 p.m.
But there is no check-in counter on the Swedish side. After 6 p.m. there will be no counters here. Machines are only available for those who have already booked a ticket. The device spits out my cabin card without any problems. You will be picked up 30 minutes before departure.
Then it's time to wait. In the Hafenhaus there is neither wifi, a snack, nor a reference to toilets. The benches are made of hard wood. Outside, the articulated lorries speed past the window. There is another man in the hall with me. He sleeps on a sofa. He looks less like a passenger. But at least it's dry here.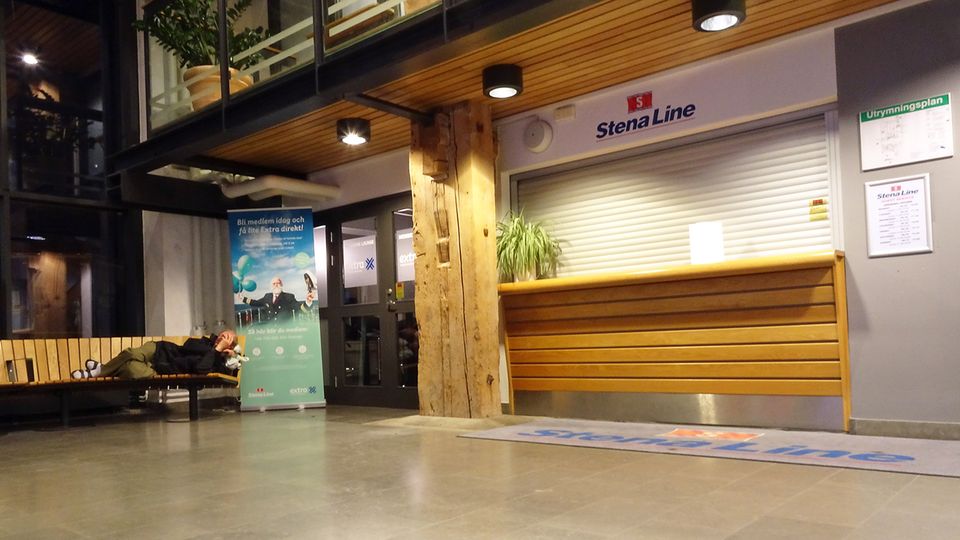 .
The buffet is cleared when you put it down
And where should the shuttle bus leave? No scoreboard, no announcement, nothing. We're not at an airport here. But then something happens that I no longer thought possible: At around 9:30 p.m. one of the glass doors opens.
A man in orange overalls shouts a single word into the room. I beg your pardon? I go to him. But he is extremely taciturn and unfriendly. At least I can elicit from him that he is not looking for a person by name, but has just called Travemünde in Swedish.
The second word he says is ticket – with a question mark. I show him my cardboard card that the machine had printed out. He turns around and just starts walking, I follow him to a city bus. He brings me into the ship, the deck of which is almost completely parked with trucks.
I go to the stairwell on the right: the elevator is repaired and working. Great. I quickly roll my suitcase into the cabin. It is 9:50 p.m. when the ship suddenly vibrates. We cast off. I rush to the restaurant. But the buffet is already being dismantled. Bad luck if you are the last to be brought on board. What timing.
Customers can be a nuisance. I feel like a traveler who uses the wrong mode of transport at the wrong time. But a double negative does not automatically turn into a yes. I now realize why I'm the only one again: Why is it made so difficult when you want to do without driving and flying?